Hi there, everyone!
It's been a while, hasn't it? Sorry for the lack of update. Now that we have cleared up our things, we are back to the same schedule!
I'm aware that we miss many months of report and that might worry some of you who don't have access to Secret Lab (we still update those), so I'll do my best to catch up to March within this month.
Quick summary for people who are new here. We have a
Weekly Progress
report in the secret lab section of our
forum
. The monthly reports will be a summary of those weekly reports, excluding the exclusive stuffs.
Game Status
Game Interface
Kuroda Rokurou worked on the game GUI this month. While most of the graphics are placeholders at the moment, they will be replace in the future once the overall flow of the interface is finished.
Kemoket3 Demo
We were busy talking to NG and planning the contents that will be included in the new demo.
After some discussions, we have decided that the first two characters we will include in the first chapter are
- Volga : As playable character
- ??? : As the chapter boss
I'll hide the name for now until we have his erotic scene in color.
It won't be one of the playable characters so definitely not Tharsix or Cyrus!
We also decided that before you get to fight the coliseum boss, you have to fight sub bosses first. These aren't major characters so they don't feature any erotic scenes but you'll be able to strip them nonetheless. (Or get your character's game over CG if you lose)
Arts
First we have an expression sketch of Aquilo the hunter!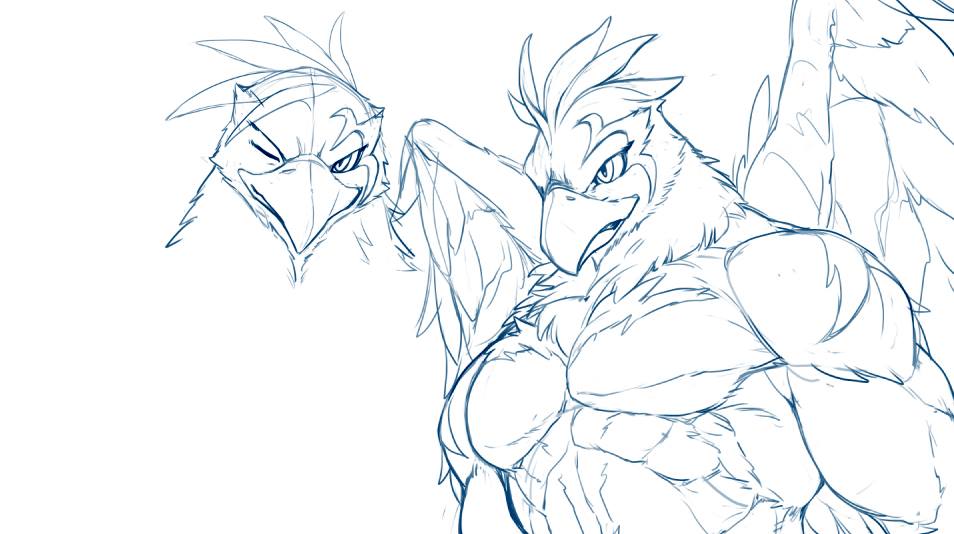 Then, we have a sample of a completely inked picture of Volga's Game Over CG.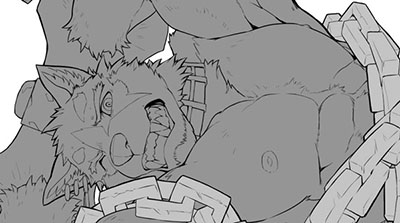 Volga's CG will be featured in the next demo, so please wait for a bit!
Issue with Gumroad
During this month, Gumroad had decided to close its door on us. Apparently, they don't want anything to do with erotic materials at all. Hence we had to spend time planning and working on what to do next in order to be able to receive support.
Thanks to Selz.com, they have just implemented a new pay-whatever-you-want system, which is perfect for donation. Hence we have setup a new
donation page
. Hopefully this will last longer than Gumroad!
Other Games
The animation tool that we used to create animations in our recent games just got a new feature! It's now possible to deform the mesh and animate the deformation.
We have tested this with the new bonus animation from Beast Warrior : Night Attack.
You can watch the result on the video on the link below.
ケモノ戦士の夜這い〜アニメーションテスト〜
This scene will be included in the English version of the game, as well as the updated Japanese version.
Donation Report 2014
Jan $25
Reminder
While Kemo Coliseum will be a game that is free to play, it is definitely not free to make. If you can, please help
support us
so we can keep working on the game, make it better, and finish it faster :)